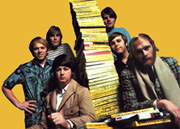 SMiLE In Their Own Words
---
How did the individual members of the Beach Boys and those involved view the Smile album?
THE SMILE album has been interpreted (some say misinterpreted) over the years by scores of rock music fans and rock journalists alike. Some say hype and some say masterpiece.
Fans may disagree when it comes to the scope and even the inclusion of tracks, but I think that all can agree that the music that Brian Wilson was attempting in the waning days of 1966 was unique and innovative at a critical point in rock and roll. It's just a pity than Brian's vision never saw the light of day.
THE BEACH BOYS SMILE – IN THEIR OWN WORDS is a collection of quotes from the Beach Boys and the major players in the Smile experiment. There will be contradictions and complete 180-degree changes in attitude from some. Somewhere in between lies the answer. Until Brian Wilson himself presents us with the mythical "Rosetta Stone" for Smile, we only have these "words", many hypothesis and bits and pieces of the sonic blueprint that was the majesty of the 1966 Smile album.
---
References:


Books:
"The Beach Boys & The Southern California Myth" by David Leaf. 1979
"The Beach Boys" by Byron Preiss. 1979
"Heroes And Villains" by Steven Gaines. 1986
"Look, Listen, Vibrate, Smile" Domenic Priore, editor. 1988
"Wouldn't It Be Nice" by Brian Wilson with Todd Gold. 1991
"The Nearest Faraway Place" by Timothy White. 1994
"How Deep Is The Ocean?" byPaul Williams. 1997
"Dumb Angel: the Life and Music of Dennis Wilson" by Adam Webb, 2000

Video:
THE BEACH BOYS-AN AMERICAN BAND - video
ENDLESS HARMONY- VH1 TV special 1998
A&E BIO BRIAN WILSON- aired 6-20-99

Internet interviews and chats:
EAR CANDY interview With Brian Wilson 7-11-2000
EAR CANDY interview With Carol Kaye March 1999
Yahoo! Chat with Brian Wilson on Tuesday, July 11, 2000.
Postings by Brian Wilson on his official message board August 10, 2000.
Postings by Brian Wilson on his official message board December 18, 2001.
Bruce Johnston talks about SMiLE on the Beach Boys Britain message board 2001.

Magazines:
Endless Summer Quarterly, March 1997 -Beard & Dempsey, editors
Open Sky magazine 1999 -Chris Allen, editor
Goldmine July 28, 2000-"Alan Jardine-A Beach Boy Still Riding The Waves" by Ken Sharp.

Audio:
1967 radio interview with Brian about Smiley Smile.
BBC Radio 1 "Smile" special 8/13/95

Web sites:
THE SMILE SHOP - Jon Hunt and John Lane, editors.
---