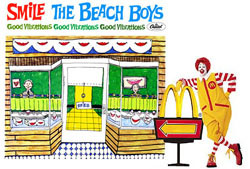 McDonald's sells "Smile"with its Summer Music Event 2002.
HAWTHORNE, CA. (February 1, 2002) - Where can today's 'big kids' find the rare, previously unreleased Beach Boys Smile album? McDonald's of course! This summer, the fast-food restaurant in planning a launch of Smile HitClips, mini portable players for specially coded singles of the famous 'lost' album.
Mike Love announced the promotion at a recent press conference with McDonald's corporate leaders. Love boasted, "I've had a master plan for the release of Smile and I was waiting for the right time. Besides, what is more American than hamburgers, french-fries, milk shakes and the Beach Boys?" One reporter asked if he had to get the permission of Brian Wilson, who wrote the Smile material along with Van Dyke Parks. Love replied, "I've recently acquired ALL of the rights to the Smile songs, due to a legal snafu dating from 1968. It seems that when our former manager, Murray, sold the Beach Boys song catalogue in 1968, he neglected to include the Smile tracks, signing them over to me. He was probably trying to spite Brian."
The touring members of the Beach Boys, including Love and Bruce Johnston, plan on performing Smile in its entirety during their summer 2002 tour. Each venue will also have a temporary McDonald's restaurant, fully stocked with Smile HitClips. "I'm also planning a live album, a DVD and a TV special on the Smile album, " Love told reporters.
Due to the popularity of its previous HitClips campaign for kids and teens, McDonald's is now marketing to those post-teenage 'big kids' that like classic rock 'n roll. HitClips is an incredible new music system that gives the user the chance to collect hit single music samples in a micro sized chip - no bigger than a postage stamp. Each HitClips Micro Music Player plays one Micro Music Clip at a time; one clip is included with the purchase of a HitClips player. Easily transportable, the HitClips Micro Music Players attach onto clothing and have one earbud that fits snugly in the ear.
McDonald's is offering the new 'adult' HitClips Micro Music Players as part of the biggest music event of the summer of 2002. Customers receive one Micro Music Clip from the unreleased Beach Boys Smile album with the purchase of a HitClips Micro Music Player.
Other HitClips items available soon where toys are sold include the Who's Lifehouse and Syd Barrett's Third Album from 1974.
McDonald's is the world's largest global food service retailer, with more than 27,000 restaurants serving more than 43 million people each day in 119 countries. Approximately 85 percent of McDonald's U.S. restaurants are owned and operated by independent franchisees.
''We wanted to find a way to get this rare music to the older crowd, and we think we've found a fun way to do that,'' says Marc Rosenberg, Tiger's vice president of communications. ''These days, older music fans are buying bootlegs at an unprecedented number, and this toy is something that they could buy for a lot less money!''
Each HitClip contains up to 5 minutes of music that can be played on a Micro Player , a Rockin' Micro Boombox or an alarm clock . The Micro Player, which can be attached to backpacks or T-shirts, has no volume control. It works as a headset with one earpiece.
In the summer of 2000, the toys created some buzz when they were introduced in a McDonald's promotion. But it wasn't until they announced the unreleased Smile album would be featured in upcoming HitClips that the demand for HitClips began to hit unprecedented levels.
''We've had advance orders of 50,000,'' says Tom Alfonsi, senior vice president of merchandising for KB Toys. ''It is just the right product at the right time. Up until now, Capitol has not found a way to market Smile.''