The year is 2015...SMiLE is FINALLY released!!!!
---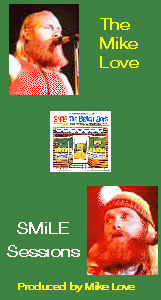 After all these years (and the passing of Brian Wilson and Van Dyke Parks), the Beach Boys have finally released their "lost" album in their new box set, "The Mike Love SMiLE Sessions" . Also included is a comprehensive 700 page Mike Love commentary on the SMiLE sessions. Little known facts have emerged: 1) Mike was actually the biggest fan of the new SMiLE material. 2) Mike introduced Van Dyke to Brian and most importantly 3) Mike actually said, "Brian, don't fight with the family" (after yet another fight with Murray! The quote has often been misconstrued as, "don't f-k with the formula")

Mike Love plans to tour to promote the box set. The band will include an "All Love" review of musicians comprised of grandsons of the Love brothers (Mike, Stan & Stephen).

The box set also includes a bonus disc of Mikes solo work!

"The SMiLE Sessions" is the first release since Mike's recent marriage to 82 year old Yoko Ono. The couple plans on issuing two-fers of the entire Beatles-Beach Boys catalogue, deleting any tracks which the couple feels "demeans the creative genius of Mike Love and John Lennon".
---